The AL. Ringling Mansion is located in beautiful Baraboo, WI at 623 Broadway Street. Come stop in for a historic tour! View the grand opulence of the home of one of America's greatest showmen!
Guided tours are available all year round.
April 1st – October 31st: Walk-in tours are available daily from 11am – 4pm, every hour, on the hour. Last tour is at 3pm!
November 1st – March 31st: Tours are available by appointment only.
Call to arrange a tour: (608) 448-7455
---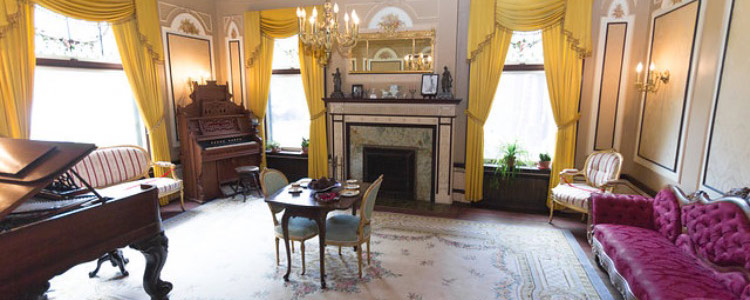 Upcoming Events
Our annual Titanic Dinner sets sail on Saturday, April 14, 2018. Join us for the interactive, immersive historical dinner recreating the last night on the RMS Titanic at the beautiful AL. Ringling Mansion.
2017-2018 Weddings
The AL. Ringling Mansion serves as a venue for weddings and wedding anniversaries. Please call us to schedule an appointment to come in and take a tour of the Mansion especially our Lou Ringling Ballroom.
---
April 14, 2018
Titanic Dinner Update: The roads here are fine, with only a regular rain/ snow mix happening. The Titanic dinner is still on! PLEASE don't be scared away. However, should anyone need overnight accommodations, we recommend the Clarion Hotel nearby in Baraboo.
October 5, 2017
Due to exciting new changes at the Ringling Mansion, after November 2018 the Lou Ringling Ballroom will no longer be available for receptions or events. We still have some select dates available for 2018 so please call 608-448-7455 to reserve your date.