The AL. Ringling Mansion is located in beautiful Baraboo, WI at 623 Broadway Street. Come stop in for a historic tour! View the grand opulence of the home of one of America's greatest showmen!
Guided tours are available all year round.
April 1st – October 31st: Walk-in tours are available daily from 11am – 4pm, every hour, on the hour. Last tour is at 3pm!
November 1st – March 31st: Tours are available by appointment only.
Call to arrange a tour: (608) 448-7455
---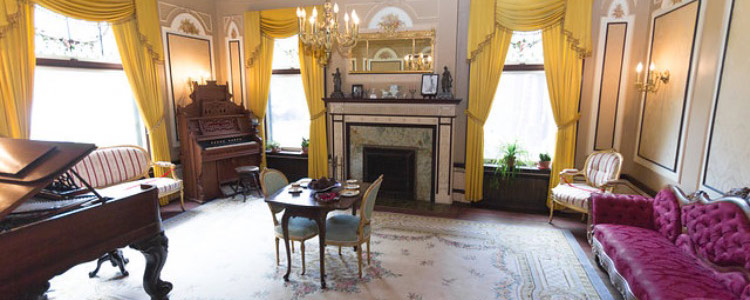 2018 Weddings and Events
The AL. Ringling Mansion serves as a venue for weddings and wedding anniversaries. Please call us to schedule an appointment to come in and take a tour of the Mansion especially our Lou Ringling Ballroom.
2018 Titanic Dinner Photos
We've added photos from our last Titanic Dinner that can be accessed on our Titanic Dinner page. We thank our guest for braving the weather to attend, and we hope you enjoyed your evening with us!
---
May 21, 2018
Starting in 2019, the Lou Ringling Ballroom will be undergoing renovations and will no longer be available for events. However, the AL. Ringling Mansion will still be available for ceremonies (either indoor or outdoor) with use of any room or area for photography. Additionally, we are able to provide our verandah for your events.
We are currently booking wedding ceremonies at the AL. Ringling Mansion for 2019 by offering a 10% discount from now until July 31st.
Please give us a call at 608) 448-7455 for more information or to schedule a tour of our beautiful venue!