Join us for the interactive, immersive historical dinner recreating the last night on the RMS Titanic at the beautiful AL. Ringling Mansion in Baraboo, WI. 30 costumed actors portraying crew & first class passengers, authentic multi-course dinner, champagne toast, string quartet & harpist, full cash bar, actual artifacts from the real ship and props from the movie.
---
2018 Titanic Dinner Snapshots
---
Saturday, April 14, 2018
Tickets are now on sale: $110/guest, $130/guest for the Captain's Table
Call us for tickets at (608) 448-7455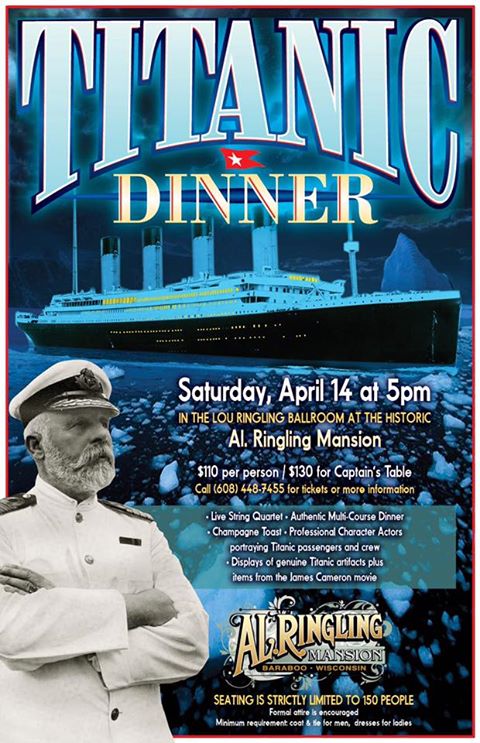 ---
Saturday, April 22, 2017 at 5 PM – 11 PM
Titanic Dinner at the Al. Ringling MansionUpdate: The 2017 Titanic Dinner is officially SOLD OUT!===
2017 Titanic Dinner Photos by T. Katz Photos
Unedited photo proofs have been posted to tkatzphotos.com and are available now for review and purchase. To do so, please select "Events" on the web page, find this year's event, and enter "TITANIC17" as your access code.
Please note a PayPal account is not required to place your order – Once your cart is ready, still select "Checkout with Paypal" and at the bottom of the following screen select the option to use credit/debit.
Ordered images will be fully edited within 10 days of your purchase and delivered via email with a formal release document so that you may print and post the received images as you please.
Thank you and ENJOY!
-Taylor Katz (T. Katz Photos)
---
2017 Titanic Dinner Snapshots